For some time now, Preston fans have been concerned about the summer of 2021.
We knew that Ben Pearson, Ben Davies and Alan Browne were all going to be out of contract come the end of the 2020/21 season – and North End's recent history suggests that they will be sold.
Jordan Hugill was sold inside the final 18 months of his deal, whilst Greg Cunningham and Callum Robinson were both sold with 12 months left on their Preston contracts.
Accounting for sell-on clauses, Preston raked in around £15million to £20million for those three players; hanging on any longer would have seen them earn much less, and a club of our size simply has to cherish that money.
Miss out on promotion, and we will likely see Davies, Pearson and Browne go. That's why many felt this was a do or die season, as so many key players could be on the move – and the global pandemic now makes it even worse, because market values will be crashing.
MORE PRESTON STORIES
However, this issue isn't confined to three players. We've been running and updating a rough spreadsheet on player expenditure and contract dates for the current squad, and it paints a rather troubling picture.
17 squad members – yes, 17 – will be out of contract at the end of next season. This doesn't even factor in Paul Gallagher, who will be out of contract later this summer having penned a short-term extension. With Gallagher included, that's 18 players who could leave for nothing inside the next 12 months.
Darnell Fisher, Paul Huntington, Andrew Hughes, Josh Earl, Daniel Johnson, Ryan Ledson, Josh Harrop, Graham Burke, Adam O'Reilly, Billy Bodin, Josh Ginnelly, Seani Maguire, Louis Moult and David Nugent all join Davies, Pearson and Browne in being free agents in 2021.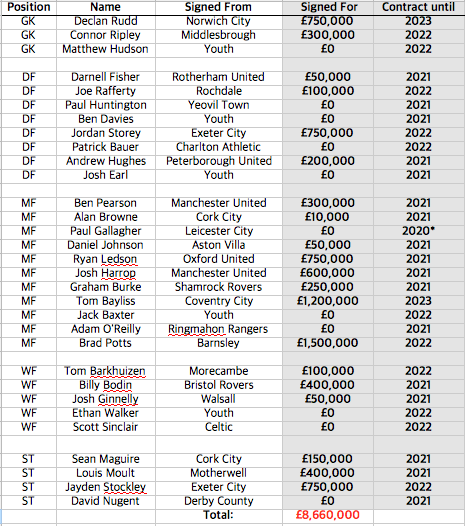 The first thing to note here is that Burke, Ginnelly and Nugent won't receive extensions as things stand, and don't represent major losses to Alex Neil's squad.
However, Fisher and Johnson are key players. Hughes is a solid contributor, whilst Earl and O'Reilly are talents for the future. The rest could go either way; will Huntington be worth keeping for another year? Ledson and Harrop have promise, but will they ever fulfil their potential? Bodin's injury record has been disappointing, whilst big questions have to be asked about Maguire and Moult's contributions.
We could end up seeing a frankly staggering overhaul over the next 12 months. Hopefully some new deals can be agreed, but North End face losing the core of his strong side having failed to agree new contracts to this point.
Having struggled to convince Hugill, Cunningham and Robinson to sign inside the final stages of their contracts, there will be rising fears that Preston have left it too late, and will face similar reluctance with the latest batch of players with expiring deals.
Another factor to note is that Preston haven't exactly replaced players well. Hugill left two-and-a-half years ago, but still hasn't been truly replaced. Hughes has been solid enough in Cunningham's place, but isn't at the same level, whilst it took North End months to bring in Scott Sinclair to replace Robinson, and he hasn't quite lived up to expectations yet.
There is sadly a lack of faith in North End to bring in money and reinvest it wisely. If they couldn't to it when losing three players over an 18-month spell, how will they cope with possibly having to replace five, 10, 15 players over 12 months?
Unless new deals can be found in the coming months, fans will be left fearing a mass exodus in the near future. After years of building a strong and competitive squad, it would be a shame to see it dismantled in this way.
Related Topics