On Saturday, we noted that there are always excuses when Preston beat a team.
Fans roll out various lines, usually about the referee, or diving, cheating, off days, luck, the weather, the position of the sun, whatever you can possibly imagine.
The most recent one, and one that's really becoming a narrative now, is that Preston get too many penalties. They're lucky because referees give them so many penalties, so Preston must be benefitting from marginal calls and yada yada.
Preston have been given eight penalties in 16 league games this season. According to Transfermarkt, the most any club received in the Championship last season was nine; four teams managed that.
In that sense, you can maybe say that Preston are a little fortunate. However, we decided to look at every penalty decision Preston have received this season, and the majority of decisions do appear to be correct…
*
Maguire gets to the ball first, and is clearly barged over by the defender. The defender is nowhere near the ball and clatters into Maguire, stopping him getting past him. Verdict: Penalty, correct decision.
MORE PRESTON STORIES
Maguire again gets around his full back, and the defender clumsily brings him down in a desperate attempt to recover. Maguire possibly goes down a touch easily, but the defender is in a terrible position and prevents Maguire from advancing. Verdict: Penalty, correct decision.
Maguire makes a great off the ball run, and again beats Moses Odubajo to the ball. Odubajo slides in, but Maguire gets there first. This is about as clear as it gets, with Odubajo clearly bringing Maguire down. Verdict: Penalty, correct decision.
The ball is bouncing around inside the box, and Johnson goes to shoot. It does appear that the Bristol City man clips Johnson as he's about to shoot, causing him to go down. It looks a touch soft, but the referee is in a great position and whilst a little more contentious than the others, this was still a spot kick. Verdict: Penalty, correct decision.
The second game where Preston got two spot kicks. Maguire cross the ball from the right hand side, and Williams has his arms above his head as the cross comes in. The defender's arms are in an unnatural position to block the cross, so this one is, again, a penalty. Verdict: Penalty, correct decision.
When Alan Browne is clean through on goal, he's very clearly hauled to the ground. The one point of contention would be whether Jayden Stockley fouled Tosin Adarabioyo in the build-up. Stockley doesn't make any real attempt to play the ball, more just stop Adarabioyo from playing it. Once the ball runs through to Browne though, he's pulled back and clipped. Verdict: Penalty, correct decision.
Joe Rafferty puts in a cross for Stockley, but he's hauled to the ground. The first angle may look a little soft, but the second angle shows arms around Stockley's neck as he's dragged down. Hard to say this is anything but a penalty. Verdict: Penalty, correct decision.
Terence Kongolo handball v Huddersfield Town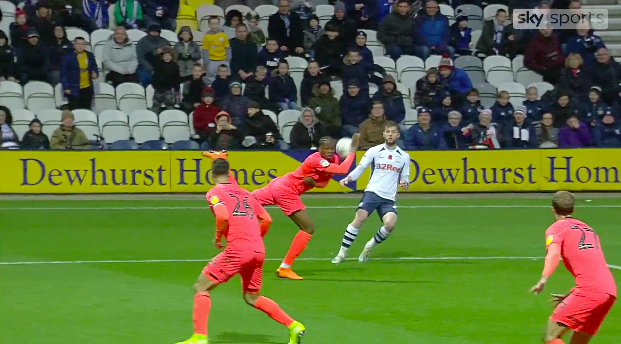 Sky Sports caught this angle perfectly. Kongolo isn't looking at the ball, has his arm in an unnatural position and blocks the cross. Verdict: Penalty, correct decision.
The handball decisions were clear, and there can only be a couple of complaints. It's unclear how much contact Johnson received in the first penalty against Bristol City, but the referee had a much better view than we did. Stockley's involvement in the Browne penalty is up for debate, but the foul itself seems obvious.
The complaints from other fans won't stop, because they'll see 'eight penalties and 16 games' and chalk Preston's form this season down to luck and penalties. Still, if the opposition players keep fouling and handballing, there isn't much of a case to be heard.
Related Topics