Christmas Day and Boxing Day are done with, New Year is just around the corner, it's cold as owt out there and you're stuck inside due to the pandemic.
What better time to start a new Football Manager save?
Many of you North End fans will have received Football Manager 2021 for Christmas, and we've compiled a guide on everything you need to know about manging Preston on this year's game…
*
Club Vision
Board Expectations: Top half of Championship, Fourth Round (minimum) of FA Cup, Third Round (minimum) of Carabao Cup.
Club Culture: Play possession football, Play attacking football, Sign players under the age of 22 for the future, Sign players based in England.
Five year plan: Work within wage budget
The good news is that you won't be expected to mount an immediate push for automatic promotion, or even the playoffs. Midtable should be more than achievable, but you will have to juggle your squad cleverly.
MORE PRESTON STORIES
The board expect to be into the Third Round of the Carabao Cup and Fourth Round of the FA Cup at a minimum, meaning you'll have to win a few knockout games to meet expectations; keeping fringe players sharp for those games will be key.
Signing players based in England isn't a huge shock given Preston's limited scouting range, but the expectation to play attractive, possession football is something of a surprise. North End have players who can play that way, but keeping the door shut at the back will be a challenge.
The squad
There is quality throughout this Preston side. Ben Pearson, Daniel Johnson and Ben Davies offer instant, top-level Championship quality, whilst Scott Sinclair and Tom Barkhuizen offer pace on either flank.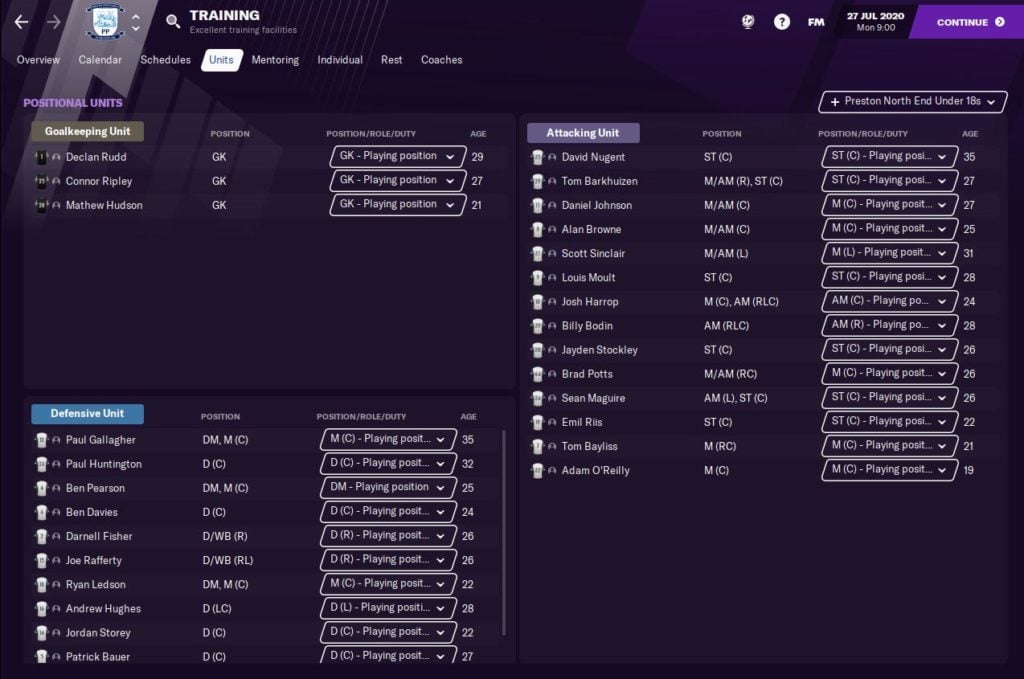 The likes of Ryan Ledson, Jordan Storey, Josh Earl and Tom Bayliss have potential you can tap into, whilst Alan Browne and Patrick Bauer are proven Championship performers.
There may be an issue up top. Emil Riis is the best option at your disposal, but his 10 for Composure means goals could come in fits and starts. Seani Maguire is another option, but is better served as a left-sided inside forward, offering competition for Scott Sinclair. With Louis Moult only back in December, signing another striker should be a priority.
Key players
Ben Davies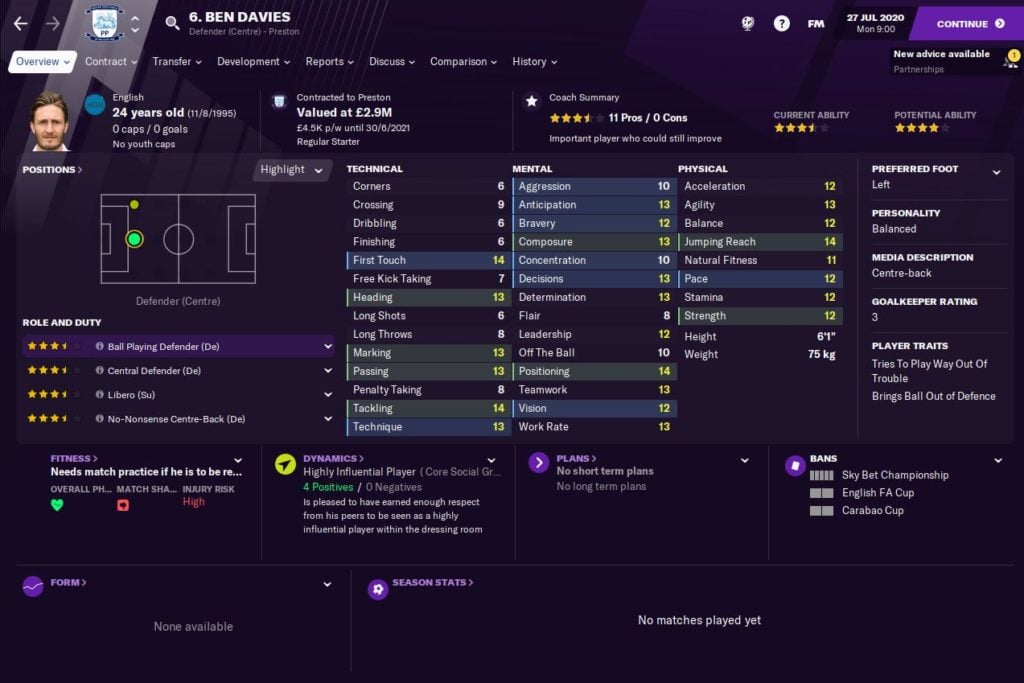 A quality ball-playing defender with yellow stats throughout his technical, mental and physical areas, Davies is a vital player. His trait of bringing the ball out of defence is prefect for playing out from the back – just make sure you have an aerially dominant player next to him!
Ben Pearson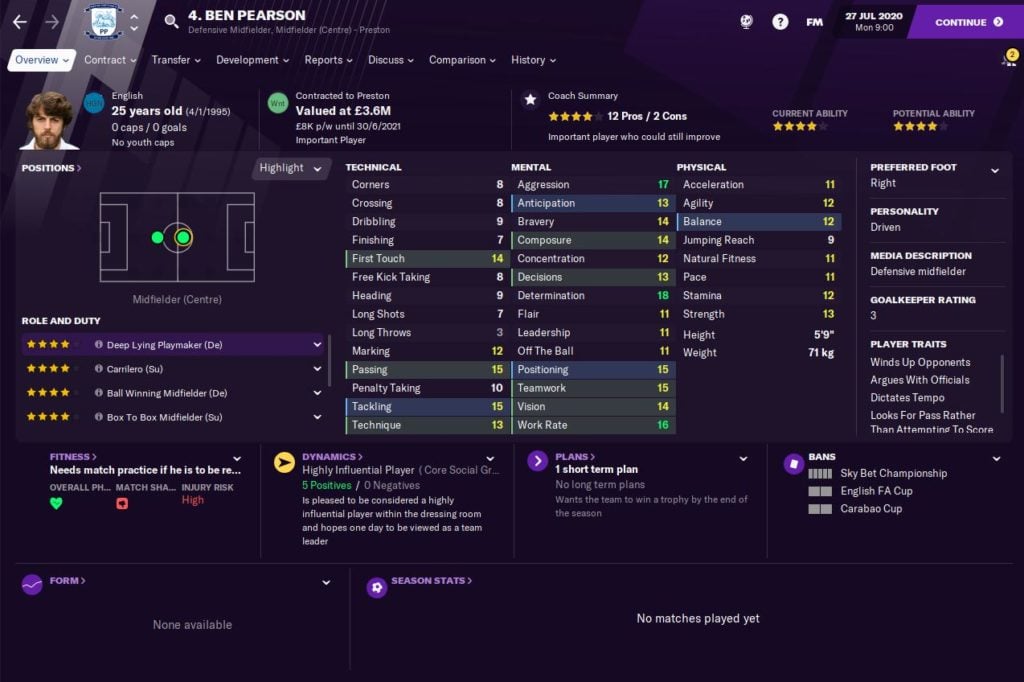 Capable in many central midfield roles as well as when sitting in front of the back four, Pearson has great aggression, determination and work rate, as well as passing and tackling. He's the heartbeat of the Preston side, but be careful of those 'winds up opponents' and 'argues with officials' traits – he'll quickly rack up yellow cards.
Scott Sinclair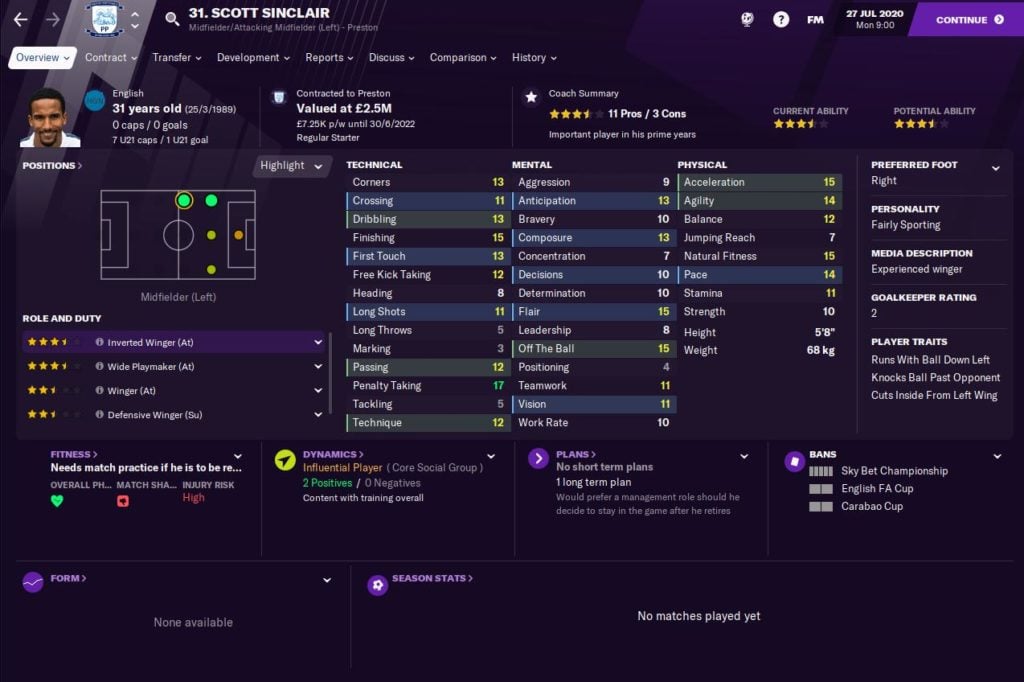 Sinclair has proven quality, offering a major goal threat from the left flank. With the 'cuts inside from left wing' trait, he's ideal as an inside forward, with 15 finishing and 13 composure very important here. At 31, he's also valuable when it comes to mentoring, especially with Ethan Walker in the ranks…
Youth prospects
Winger Walker is the top prospect in the Development Centre, and you need to keep an eye on his loan spell at Carlisle United to ensure he is making progress; the same goes for midfielder Jack Baxter at Stalybridge.
Adam O'Reilly may be the player most likely to step up to the first-team squad early doors, but the depth in midfield means a loan may be ideal. Keep an eye on left back Lewis Coulton, who looks to have solid potential.
The aforementioned Bayliss is the top first-team player when it comes to potential – getting him on the pitch regularly is imperative.
Tactics
Having watched plenty of Preston over recent years, we had a stab at replicating Alex Neil's tactics inside Football Manager 2021 – and it has largely gone well.
It features Ben Davies as the more progressive of the two centre backs, operating as ball-playing defender. Josh Earl acts as a wing-back to overlap Scott Sinclair down the left, with Darnell Fisher supporting the wider Tom Barkhuizen. We've tinkered with using Barkhuizen as a Raumdeuter to replicate how he takes up goalscoring positions, but with no proven long-term success.
We've used Ben Pearson as a deep-lying playmaker on support in home games we expect to win, and on defend in tougher games. We've even toyed with him as a central midfielder on defend, putting more emphasis on the roaming playmaker – either Johnson or Ledson – to get on the ball.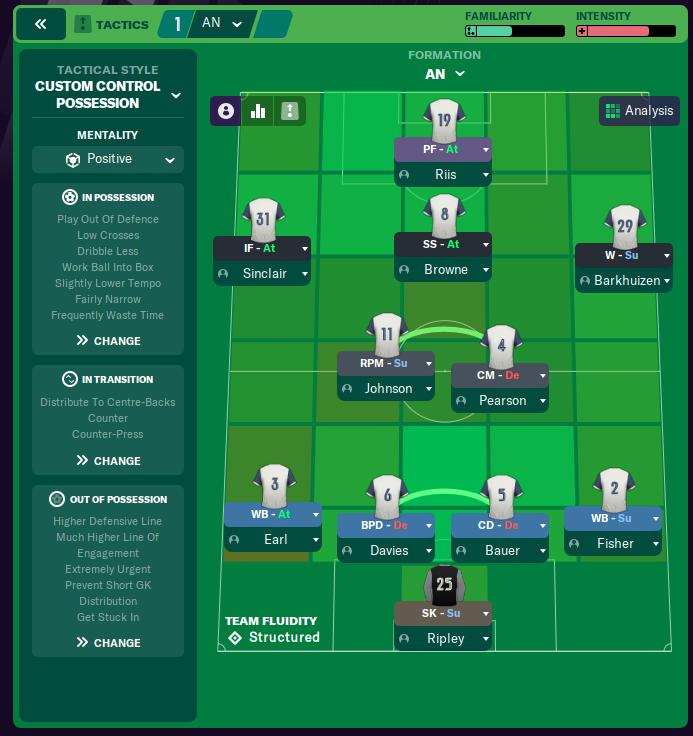 The number 10 role is the one we've had the most trouble with. Neil loves to use a 'running 10'; a player who will break into the box and press high, often with athletic attributes over technical prowess. The closest we have got to copying this role is using a shadow striker, with largely positive results. Up top, a pressing forward is used, with Riis ideal for that role.
We also really liked the 3-4-1-2 used at Huddersfield Town earlier this season and have at least taken a bash at a counter-attacking tactic with the pace of Barkhuizen and Riis up top. It has shown promising signs so far, so feel free to test away.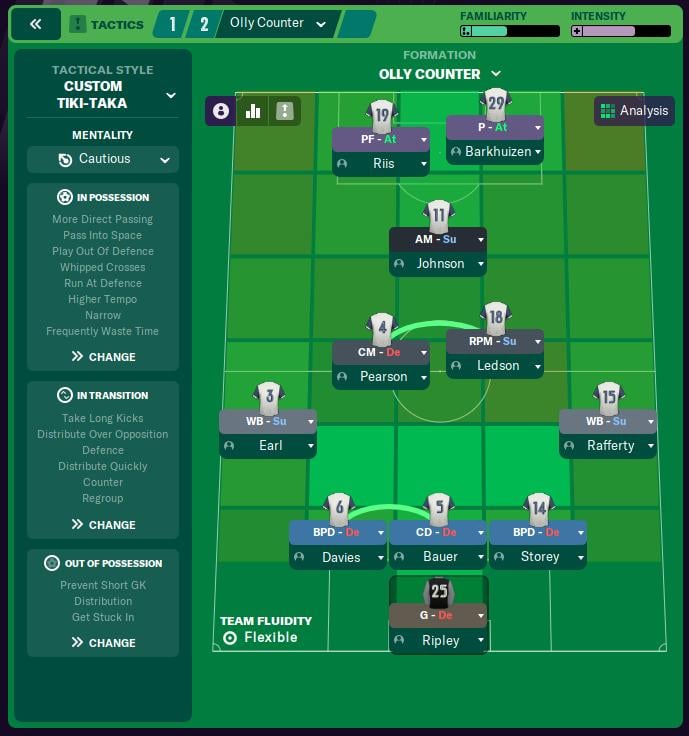 Contract advice
The big problem at Preston is the contract situation. Davies, Pearson, Browne and Johnson are all out of contract at the end of the first season, and the same goes for Darnell Fisher. You really need to tie down all five to new contracts, whilst waiting to see how Paul Huntington and Paul Gallagher fare given their age.
David Nugent and Billy Bodin aren't worth new contracts, so look to sell both early into the save.
In one test save, we did manage to get 'the big five to stay'. Pearson and Johnson are difficult at first, with the former demanding more than £30,000-a-week. Browne settled at £9,000-a-week, Fisher at £9,500 and Ben Davies at £10,500-a-week. They were only for one more year, but if you can win promotion, you stand a great chance of keeping them long-term.
Johnson eventually settled for £15,000-a-week and a one-year extension, whilst in December – just weeks before the January window – Pearson accepted a two-year extension worth £16,000-a-week. It wasn't easy remaining patient with the five of the, but those are the figures we managed to agree on.
Budget and recommended targets
Before setting your own expectations for the season, the transfer budget sits at £800,000, with £10,000 left in the wage budget.
Most of your budget should ultimately go to keeping those contract rebels. They will drain your finances, but are definitely worth keeping.
We made just two signings; Millwall striker Tom Bradshaw on a season-long loan to support Riis, and ex-Manchester United playmaker Aidan Barlow on a free transfer. Not particularly needed, but he has good potential and can be develop at little expense.
Free agents like Dennis Gymfi, Kieron Freeman and Jordan Obita could be options in the full back positions, whilst Jozo Simunovic should be looked at if you fancy a new centre back.
It may not be popular after his less-than-stellar loan spell at Preston last season, but Andre Green can offer depth on both flanks at a low price, with bargains and loans the name of the game here given Preston's budget issues.
Staff additions
One of the most disappointing areas of Preston's setup is when it comes to staff. There is a lack of coaches, no real scouting network to speak of and no head performance analyst.
We brought in three new coaches; Neil Redfearn, Alan Stubbs and Rob Edwards. Frankie McAvoy was kept on, and adding those coaches for free will help deal with the training workload.
Steve Thompson was promoted to assistant manager having been disappointed with other options on the market, whilst Joseph Moore came in as head performance analyst. Simon Farnworth – formerly of Preston – returned to the club as first-team physio too.
Joe Savage is the only scout at the club, so we brought in Mel Johnson and Andrew Main to help that situation. It's still far from ideal, but a lack of other free options with actual scouting quality mean we're biding our time for other additions.
Related Topics