Preston North End shared the points with their Lancashire rivals Burnley on Tuesday night in front of a packed Deepdale.
Vincent Kompany's side dominated possession and when they took the lead through Taylor Harwood-Bellis in the 10th minute, it looked like it would be a long night for Preston.
However Jordan Storey managed to sneak in an equaliser and the Lilywhites valiantly held on for a point. 
An emotional and atmospheric evening
This was the first game played by Preston since the passing of Queen Elizabeth II and the first English league game to be televised since then as well. The occasion was marked superbly by a minutes silence and then a rousing rendition of 'God Save The King' by Russell Watson. An anthem that will take some getting used to, but when it's sung in a full stadium by 20,000 others, regardless of your opinion on the monarchy, it was a moment that gave you goosebumps.
It was certainly a different tone to begin a match with, but it fired up the emotions in both sets of fans. A Lancashire derby at Deepdale is always an occasion to mark in the diary and with this being the first visit from our neighbours in claret and blue for over six years, it was one we were ready for. The fans played their part as they have done all season, and it was an iconic moment to be there for and one that will live long in the memory. 
A first real test in this league shows the gap
Up until now Preston have had a relatively steady start to the Championship season. Aside from Watford they hadn't played any of the 'big hitters' or teams expected to be seriously challenging for promotion. That's why our meagre points total from the first eight games was a little worrying as we could see what was round the corner.
72% possession for Burnley tells the story. Preston were second best for the whole game. Burnley passed the ball very well and found space and gaps with ease. Perhaps not clinical enough in the final third as our defensive trio stood tight, but they carved open our midfield way too easily. 
The Clarets were a class above us and Kompany has them playing some very nice football; football Ryan Lowe could only dream of his team playing at the moment. We were holding on for a point as soon as we got the equaliser. When we did get the ball, we panicked and weren't able to create anything ourselves. It didn't stick up top and we couldn't string many passes together.
It felt at times like we were playing a cup game against a team in a much higher position and league than ourselves. Lowe can learn a lot from this game. In the end he'll be happy with a point. But in truth there will be many more tough games coming up like this and Lowe can't afford his team to be sat back too often regardless of how strong the defence has looked. 
Do we win any of the next four?
The games don't get any easier for Preston. On Saturday we face top of the table Sheffield United. A trip to the Stadium of Light to face Sunderland follows after the international break before a home game against West Bromwich Albion and then an away game at Norwich City.
All tough games and they could follow a similar pattern to the Burnley match.
Ryan Lowe has to get his team to control the game more. But I just don't see it. I still don't know what style or brand he wants to incorporate. We don't play with pacey wing-backs, the midfield three don't create enough and stop the opposition from playing through them and the two strikers often look isolated. The only highlights are the back three and it was fantastic to see one man in particular return to the pitch on Tuesday.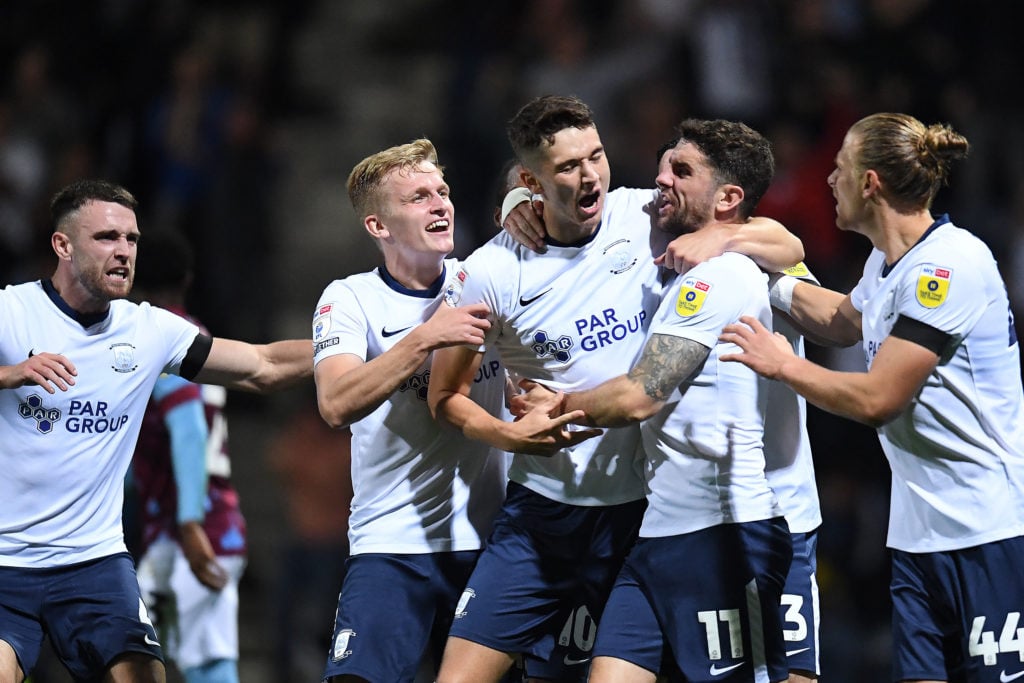 Andrew Hughes is the first name on the teamsheet
The Welshman had been absent from the side since going off injured against Watford on the 20th August. Hughes was on the bench on Tuesday and came on for Greg Cunningham midway through the second half. He instantly improved the team at the front and the back. He is solid and dependable in defence. He gets stuck in, makes good tackles, doesn't let anyone beat him and is great in the air too. 
Perhaps more importantly he offers a lot going forward as well. His underlap and overlap runs are key to attacks down the left with either Robbie Brady or Alvaro Fernandez outside him.  He provided a burst of energy on Tuesday night and was proactive in making things happen when we had the ball.
Late on, Hughes was first to the ball to stop a Burnley counter attack, beat his man and then won a corner providing Preston with an opportunity to sneak a winner. He barely puts a foot wrong these days and is a crucial part of this team. 
Fernandez is our most direct attacker and must start
Fernandez is our main go-to substitute now when we are still looking to get something from the game late on. Robbie Brady can put a good ball in the box but he doesn't really beat his man and get in the box himself.
Fernandez looks to head towards goal as soon as he gets the ball. He may lack some composure when he gets there but we need that directness. It's time to start him from the beginning and see if it benefits our style of play because he's certainly a different type of player to Brady. 
The creativity has to come from somewhere because it isn't happening right now. The attackers are starved of chances and then when they do get one they panic. The midfield sat too deep on Tuesday. Daniel Johnson was isolated and was left to do a lot of the closing down himself. Ben Whiteman had a poor game and sat too deep with Ali McCann and then Ryan Ledson. They let Burnley play through them and around them and didn't get their foot on the ball themselves.
Have something to tell us about this article?
Let us know