Preston North End gained another point with their fourth 0-0 result of the season on Saturday.
It was against the toughest opposition so far in Watford, and while they are yet to concede in the Championship they've only scored goal and that needs to improve.
However, chances are being created, not as many in this game as previous ones, but the decision making needs to be better.
Lack of goals is a concern
One goal in five games isn't the best of ways to start the season. Also, the goal in question was a once in a lifetime one from Brad Potts that we are unlikely to see anything similar to for the rest of the campaign.
Troy Parrott has plenty of good qualities. He's fast, energetic, can hold the ball up well, and links up with other players nicely as well. But he's yet to score in the league and he's had great opportunities so far. He will probably end up scoring 20 goals in the Championship but it will be next season for a different team.
Parrott only scored 10 goals for MK Dons in League One last season, and was seen as more of a good partner for another striker and you can see why. He's very unselfish, and will often choose to pass rather than taking a chance with a shot. With that in mind, it's probably not the best idea to play him up front on his own.
MORE PRESTON STORIES
The Irishman will come deep, or move wide to get the ball, but then that leaves no options in the central attacking areas. If we are playing only one striker up front, then it seems ridiculous to leave a 20 goal season striker in Emil Riis on the bench as well.
We're not scoring, so we should revert back to two up front to give us more chances of finding the back of the net. Riis won't be happy being on the bench, he doesn't deserve to be, and we should hope any speculation about him being sold isn't true. The club would be in a very poor situation with him sold, and no other goal scorers at the club.
Browne and DJ need to offer more
If we are sticking with the 3-4-2-1 formation that Ryan Lowe has adopted for the last three matches, then we need more from the players in the number 10 positions.
Alan Browne and Daniel Johnson play as the most advanced of the four midfielders. We need to see more running from them, beyond Parrott to allow us to get behind the defence. Browne and DJ can take a while with their decision making and often slow down the play which gives the opposition time to get more men behind the ball. Quite simply we need more goals and assists from the two senior and longest serving players at the club.
For me, Browne doesn't get in the team at the moment. There's a lot of options in midfield, and I don't feel he offers enough to always be in the starting eleven. At times he's good, but it's not often enough. Browne is a shadow of the player he was three or so years ago. He doesn't to back himself to shoot when presented with chances on the edge of the area as well. He used to pick up quite a few goals from those positions, but now seems to try little dinked passes or crosses instead. He had a good volleyed effort saved early on in the Watford game, but for me, much more is needed from the club captain.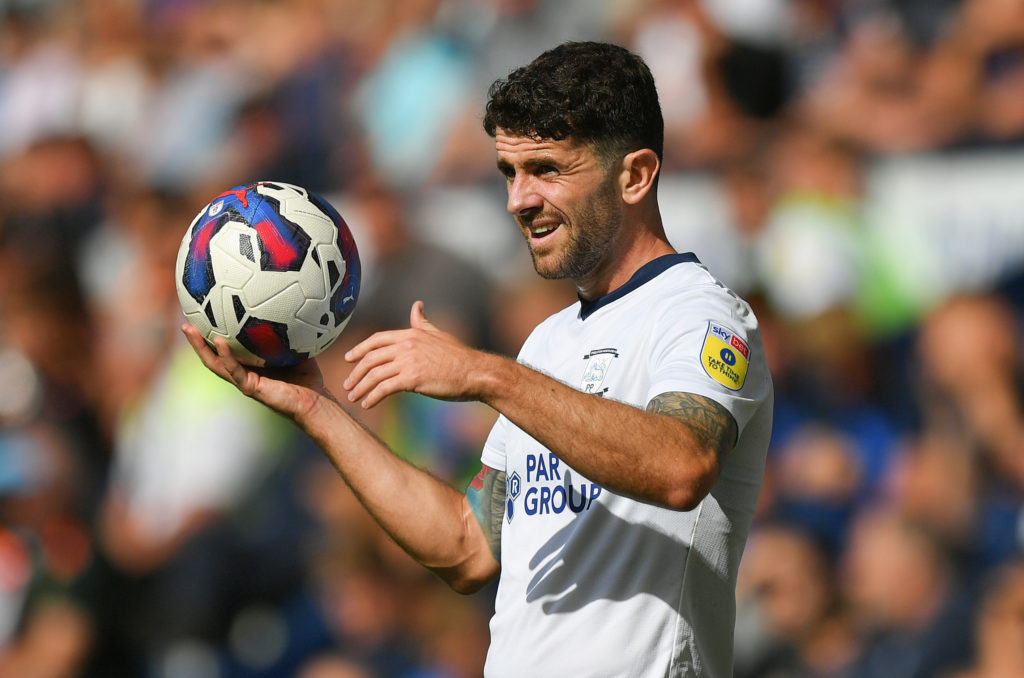 Too reliant on Brady's crosses which are yet to pay dividends
The general build up play from the back has been good this season. The passing from the defenders, and actually their overall game has been superb in the opening five games. Most of the time though we end up playing down the wings, and it's usually down the left.
The loss of Andrew Hughes in the first half was a blow, but I thought Greg Cunningham did well in replacing him. Robbie Brady found himself with the ball for a lot of our play, but his balls into the box were never met by a Preston player. They were easily cleared away and there's no plan B.
Brady tired badly in the second half, and he's not the type of player to try and beat his man too often anyway. It meant a lot of crosses from deep, and they were not working. We don't play with any aerially talented players so the crosses are easily defended.
The method was continually used but there should have been more creativity from the four central midfielders we had on the pitch. The best cross actually came from Ryan Ledson which Alan Browne nearly guided into the top corner in the second half.
Alvaro Fernandez is needed in the team
We've only seen him on the pitch for a minimal amount of time this season, but it's been enough to tell Alvaro Fernandez can be a big player for us this season.
It's no coincidence that we scored four goals in the Carabao Cup game that he started. He got two assists in the first half before receiving a blow to the ankle and he has been out ever since.
On Friday, Fernandez returned to Manchester United for them to assess the Spaniard but it is hoped he will be able to feature in the second round of the cup against Wolverhampton Wanderers.
Fernandez is pacey and likes to cut inside. His directness creates more chances as he gets into dangerous areas, making defenders commit and therefore opening up spaces elsewhere.
Fernandez needs to be in the team, as the attacking play without him is too predictable. He could even be able to play on the right side as well, as it would still allow him to cut in and then he can use his preferred foot.
However, Brad Potts has had a strong start to the season on that side.
On Saturday as Brady fatigued we could have done with Fernandez to come on and liven up the game. Hopefully he does return to the squad on Tuesday, because right now he's one of only a few players you can see goals coming from.
Related Topics