When new signings immediately impress, especially when arriving from a foreign league, fans are often caught between two trains of thought.
One is to laud them and bill them as the next big thing, embracing a new-found hero with all the superlatives under the sun mere weeks into their time in a new country.
The other is to worry about a honeymoon period, believing that the player in question is having a good start but expectations should be tempered given how some players fizzle out after strong starts.
Right now, most Preston supporters are in the first category, as new signing Emil Riis is making himself a fan favourite less than a month since his move from Randers.
This isn't the most familiar feeling for Preston fans; Riis became the club's first permanent signing directly from a foreign club since Keammar Daley back in 2011 when he made his £1.2million move on October 1st.
Preston don't often operate in foreign markets, so splashing out seven figures on a relative unknown in Riis was seen as both a gamble and an exciting change of strategy having been priced out of the domestic market.
MORE PRESTON STORIES
After a couple of bright yet short-lived cameos against Brentford and Cardiff City, Riis started against Queens Park Rangers and Huddersfield Town, earning huge praise off the back of those performances.
He may have been named in the EFL Team of the Week today, but the Dane remains a little-known player away from Deepdale – so let's take a look at why Preston fans love him already.
Off the ball
This is the big one. Since Jordan Hugill's exit in January 2018, Preston have struggled to really capture what Alex Neil was looking for up top; a physical yet mobile striker who can initiate the press and run the channels.
Jayden Stockley isn't quite mobile enough for the job, whilst Seani Maguire isn't physical enough. No matter which direction Preston went in, they were always missing something.
In Riis, Preston finally to have found what Neil has been seeking, and there are already so many instances of this.
In the first half at QPR, Joe Rafferty knocked a ball down the channel and Riis went off in pursuit alongside R's defender Yoann Barbet.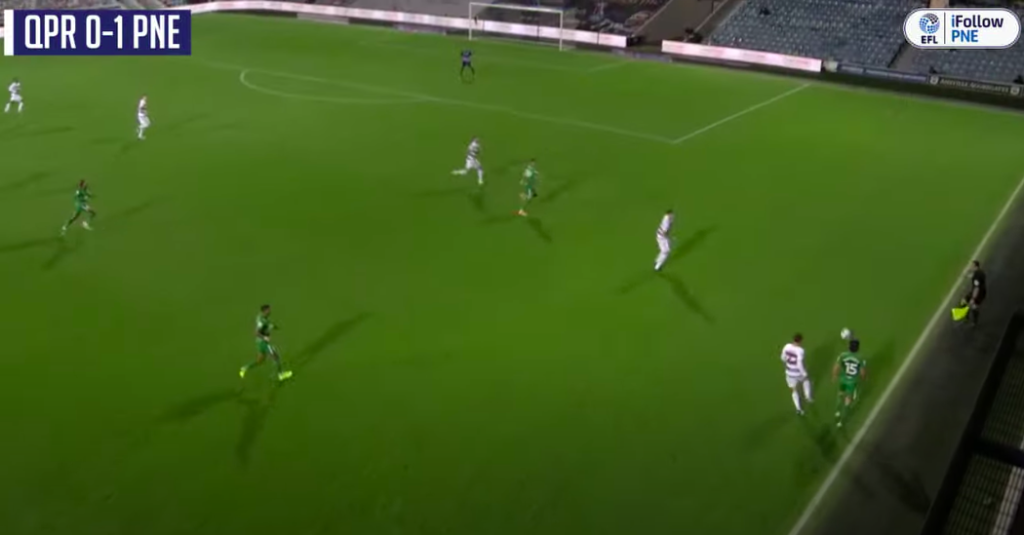 Not only did Riis make the ball his, but he beat Barbet and got to the byline, creating a chance for North End and almost winning a penalty just seconds later.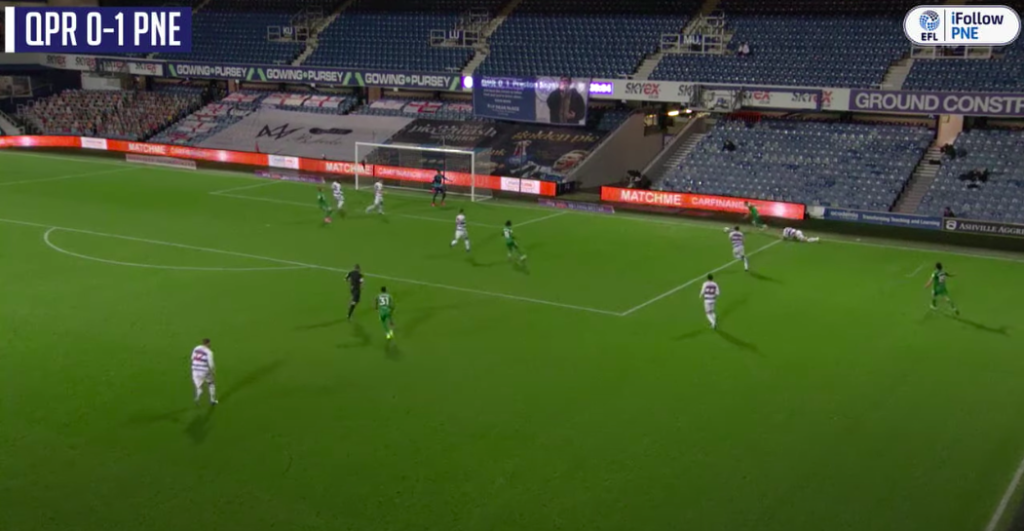 This chance likely wouldn't have materialised with either of Preston's other strikers leading the line, and neither would the second-half penalty that North End won.
Declan Rudd knocked a long ball over the top, and as soon as the QPR defence allowed the ball to bounce, Riis was onto it. He outpaced the QPR defence, drew contact from Lee Wallace and secured the spot kick, with Scott Sinclair stepping up to score.
This adds a new dimension to North End's attack. Riis is such a threat in behind, and his relentless work rate only adds to how much of a nuisance he has been so far.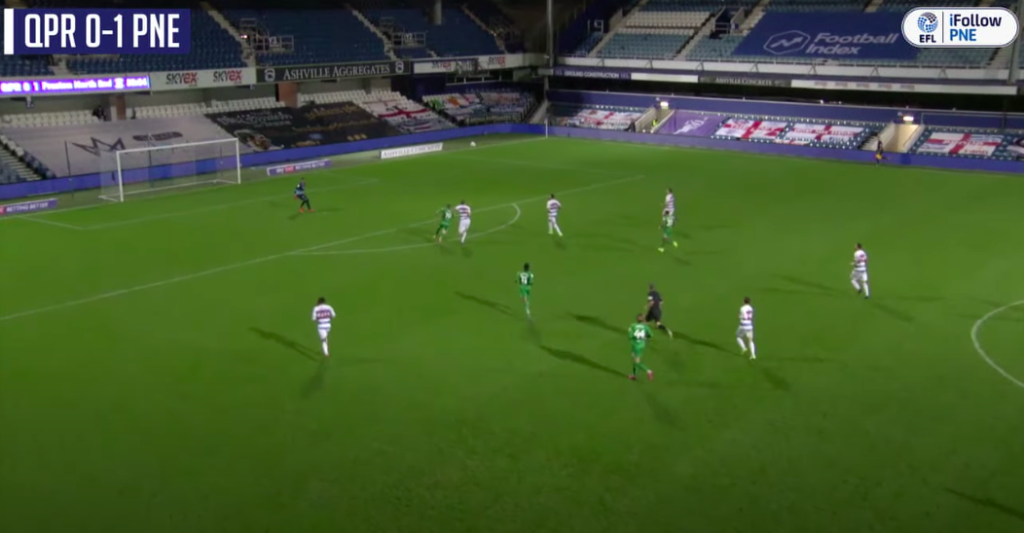 Against Huddersfield we saw more of the same. In the next two shots we see Riis taking up a position in the right channel, matched up against just one Huddersfield defender.
Look at where he picks up the ball and where he ends up; he is able to coast past the Huddersfield defender and again get towards the byline, with his cut-back only just cut out before Brad Potts could shoot.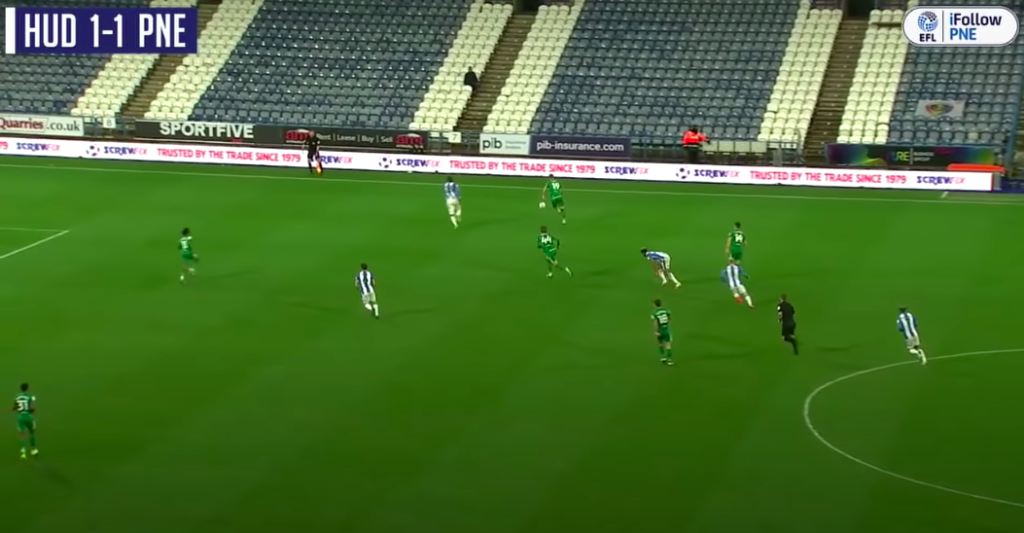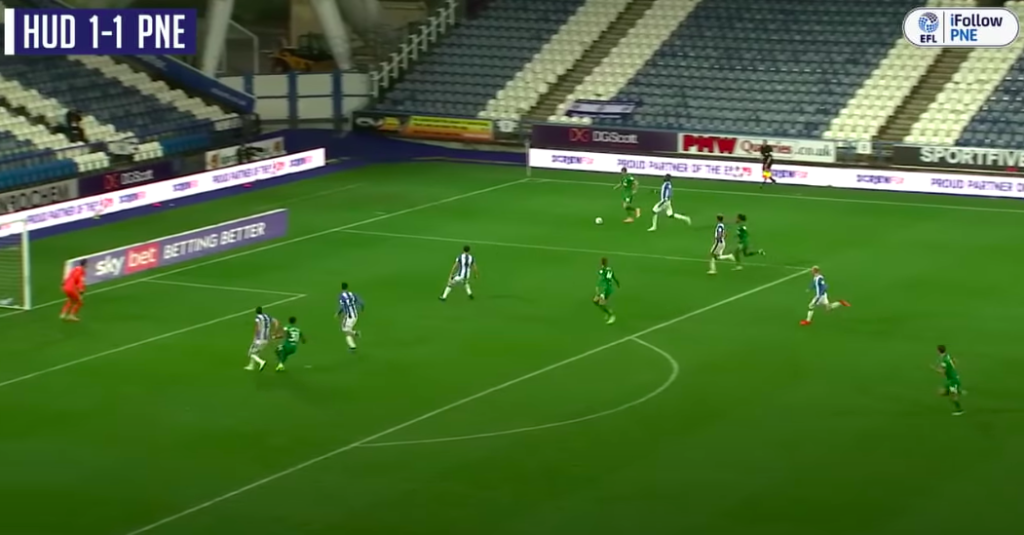 Riis showcased these attributes perfectly in the second. When Brad Potts picks up the ball in this position, it would maybe go backwards, fired up to Stockley when few runners off him, or sent into Maguire against three defenders.
With Riis in the side this ends up being a goalscoring chance. His movement is so good that he hares away from the Huddersfield back line, turning Potts's pass into a goalscoring chance, and he is only prevented from scoring by a desperate last-gasp challenge.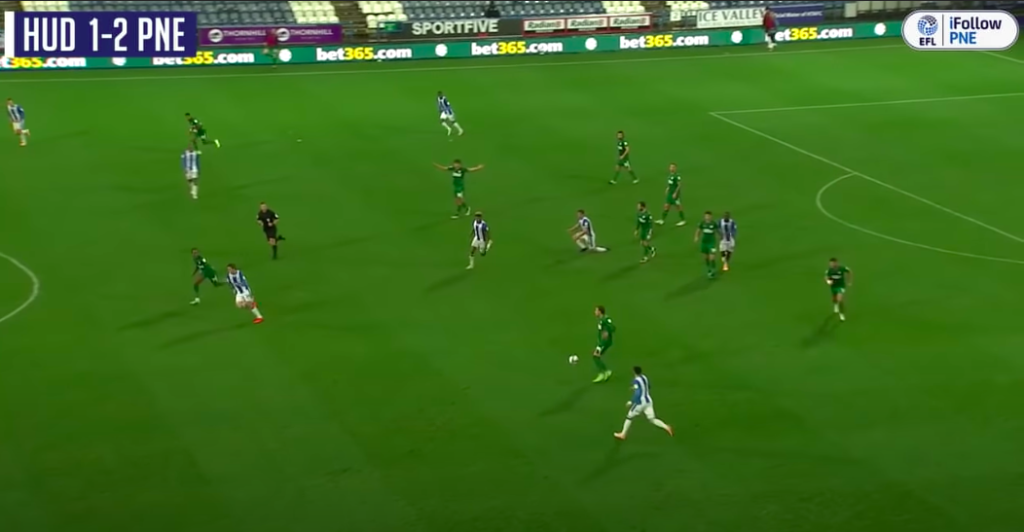 As Huddersfield committed men forward to go for an equaliser, they were caught in situations like this; Riis left isolated with a defender, dragging them into areas they just don't want to enter.
Naby Sarr doesn't want to be caught in a foot race with Riis in Preston's left challenge, but that's where Riis took him.
He has the confidence in his own pace and strength to let the ball run across his body, getting ahead of Sarr and – just like the QPR penalty – making sure contact is made. Sarr received a red card for this challenge, reducing the Terriers to 10 men.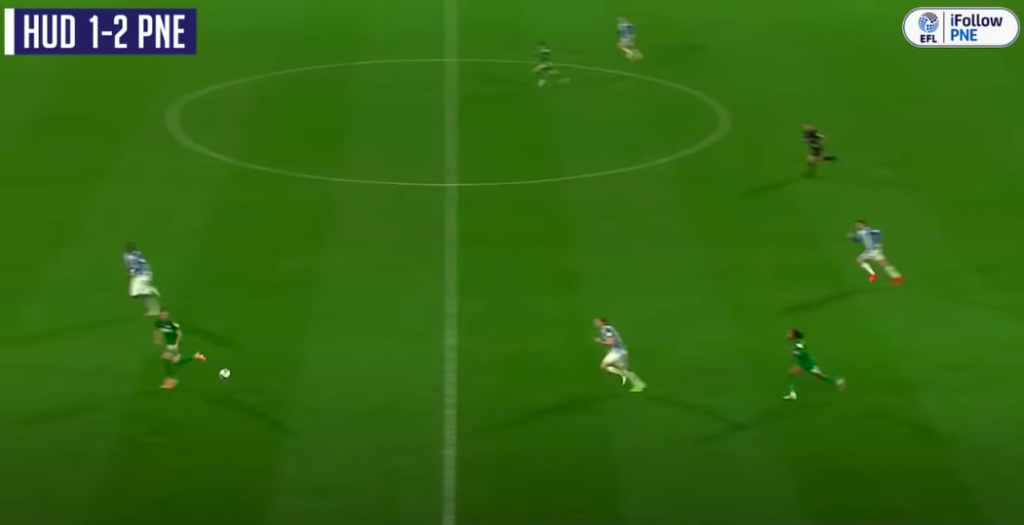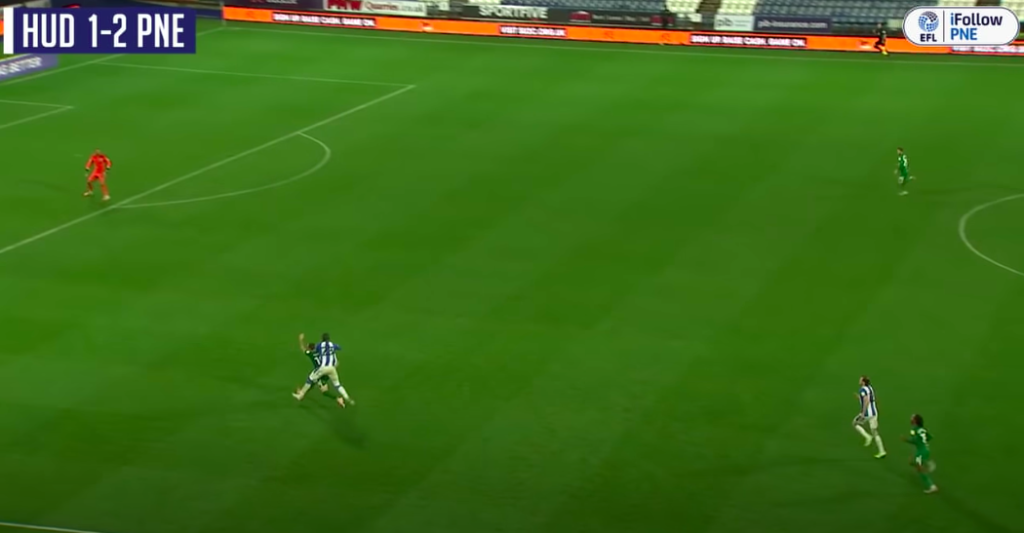 Another similar shot here; Riis is working on one defender, and Josh Harrop hooks the ball towards the right channel, knowing Riis will be in hot pursuit.
Riis blazes away from the exhausted Richard Stearman, and picks his head up to find Tom Barkhuizen. Ben Hamer pulls off a great save to deny him, and Preston can't force the ball home on the rebound.
Look at the numbers flooding forward though. That's four Preston players charging into the area to feed off Riis, showing a great appreciation for his run and the confidence that he can pick them out in a dangerous area.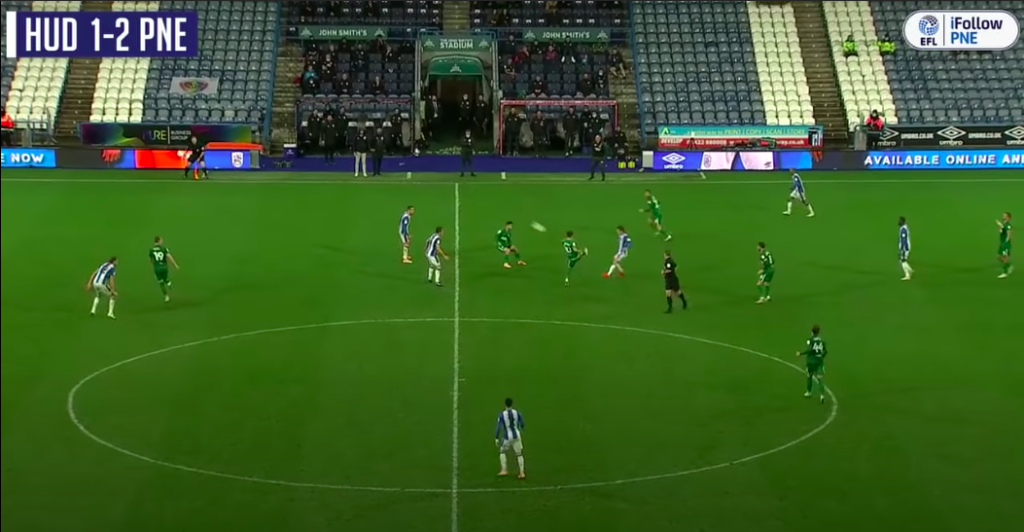 On the ball
One of the pleasant surprises with Riis is his ability on the ball. It's one thing to be as quick as Riis has shown, and another to have the strength he has exhibited, but his technical ability has been beyond expectations.
We have seen instances of Riis dropping very, very deep to pick up the ball, but he has shown that he knows exactly what to do when he gains possession far away from goal.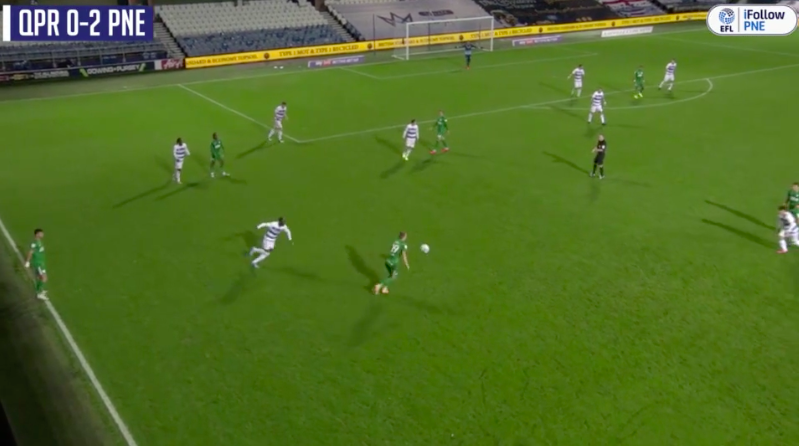 Against QPR, Riis picked up the ball midway inside the R's half, jinked away from one man before feigning past another before laying off the ball.
Riis has the technical ability and confidence to take on a man, and an appreciation for space around the final third as he looks to fashion chances for himself or teammates.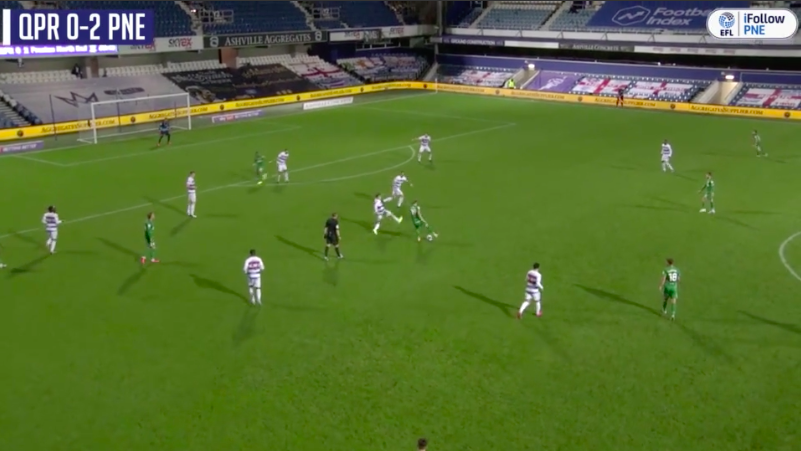 Saturday's game with Huddersfield saw Riis come deeper than ever, as he came back into the Preston half to pick up the ball with his back to goal.
He cleverly spins away from the first man before beating a second, then pinging a stunning cross-field ball towards Alan Browne that resulted in a corner.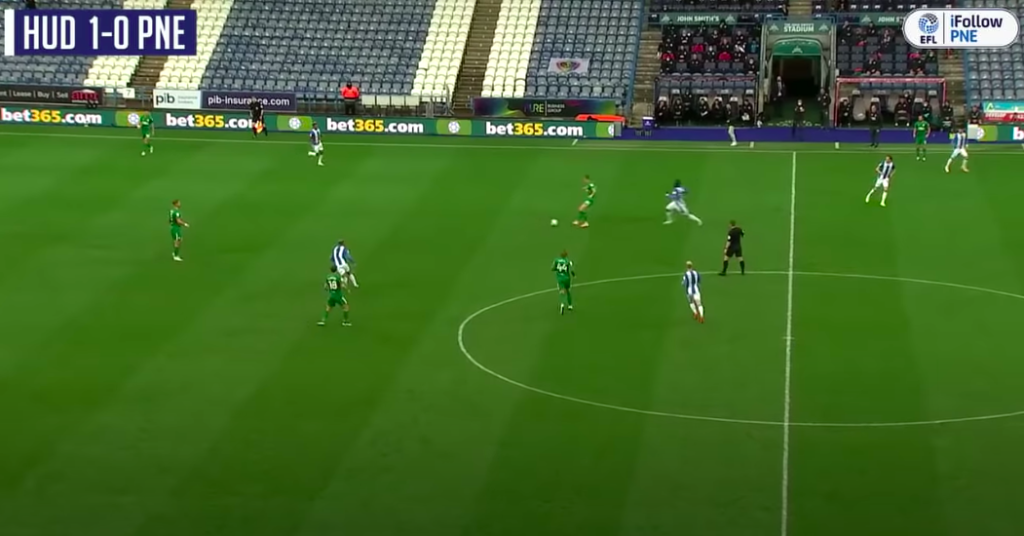 This has been one of the key facets of Riis's play so far; the ability to play with his back to goal and show a sharp turn to beat a man, getting Preston on the front foot.
In the build-up to the second goal at Huddersfield, Riis does it again; he draws a defender in close with his back to goal, but before the defender can shackle him, he's already turned and progressed the ball; Joe Rafferty ends up crossing the ball in for Alan Browne's second goal here.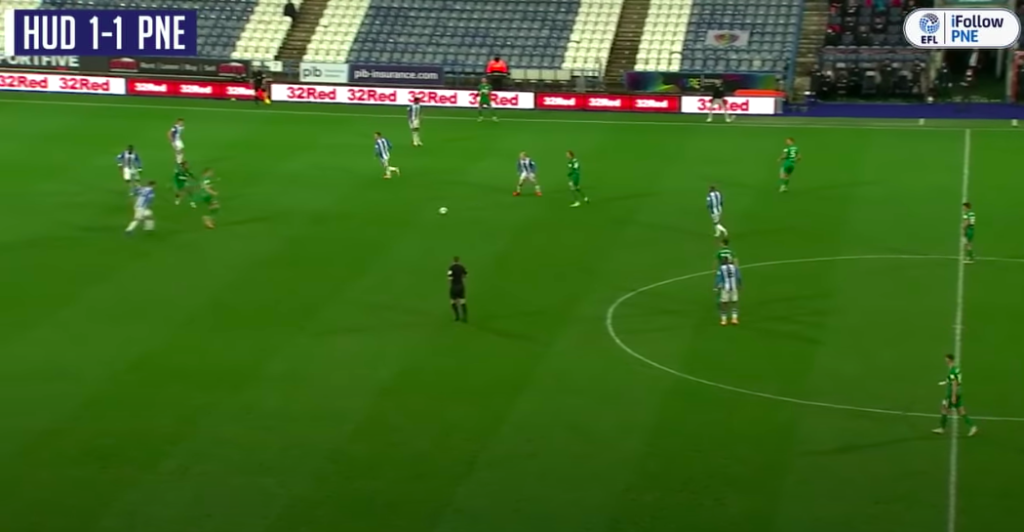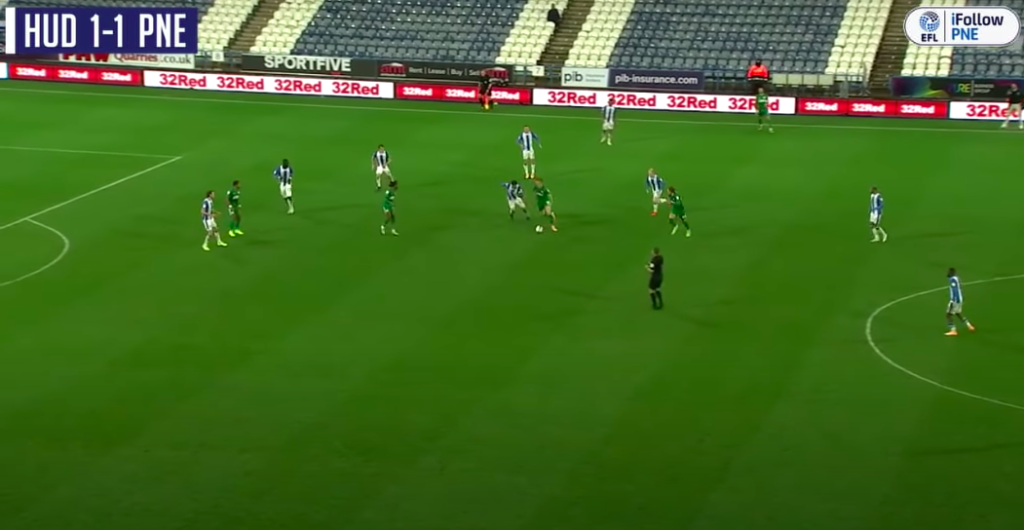 Riis has so far shown that he is so good at turning defenders and carrying the ball forward, sending defenders back-peddling towards their own goal.
Here were again see Riis collect the ball, turn away from the opposition, beat two players and then eventually tee up an Alan Browne shot that Ben Hamer saved.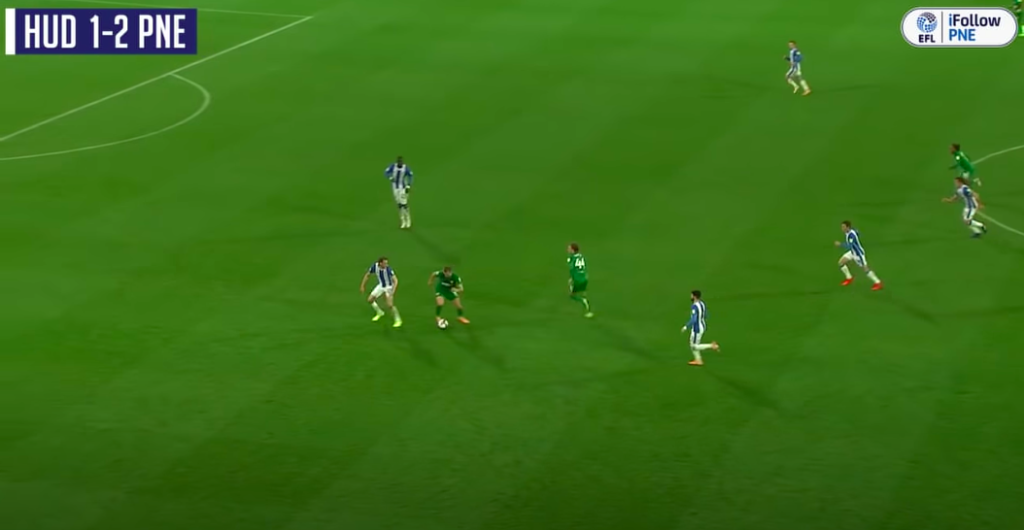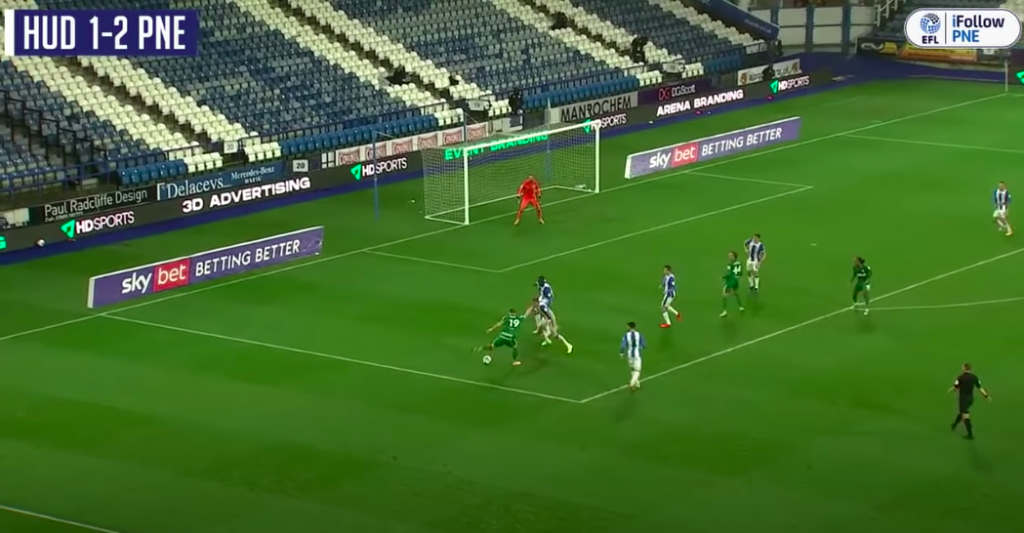 Preston arguably could have had another penalty in this game, as Brad Potts was brought down when clean through on goal by Naby Sarr.
Scott Sinclair set up that chance, but it's important to note Riis's involvement. Sinclair feeds him the ball on the edge of the centre circle, and he could have simply knocked the ball out to the right flank where two Preston players were waiting.
Instead, Riis draws defenders and plays a nonchalant flick, freeing up Sinclair, who attracts the attention of the defender who was marking Potts.
Potts is then free to run through on goal, and Preston were unlucky that this didn't lead to goal, but it's another instance of Riis's speed of thought and appreciation of the space around him.
The final part we want to highlight was when Riis hit the crossbar. It was another case of Riis running the channels well, but he showed his technical ability here.
He knows that Seani Maguire is offside, and that Josh Harrop is well-marked on the right. Richard Stearman has been pulled from pillar to post all day long and barely has the energy to track him anymore, so he pulls them towards the middle of the goal before a sharp change of direction gives him a free shot at goal.
Riis absolutely hammers the ball against the underside of the crossbar, and was desperately unlucky not to see it fly into the net to cap off a stunning performance.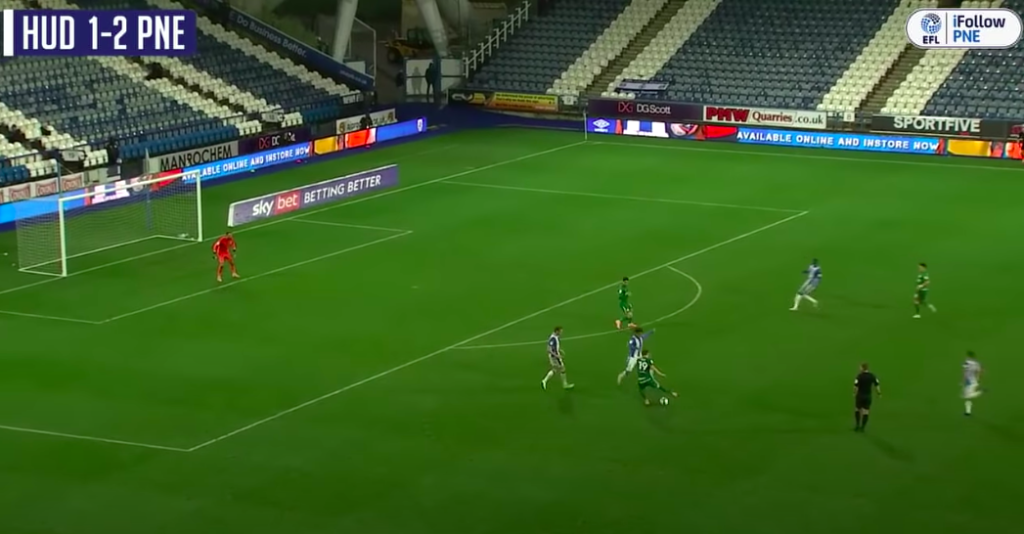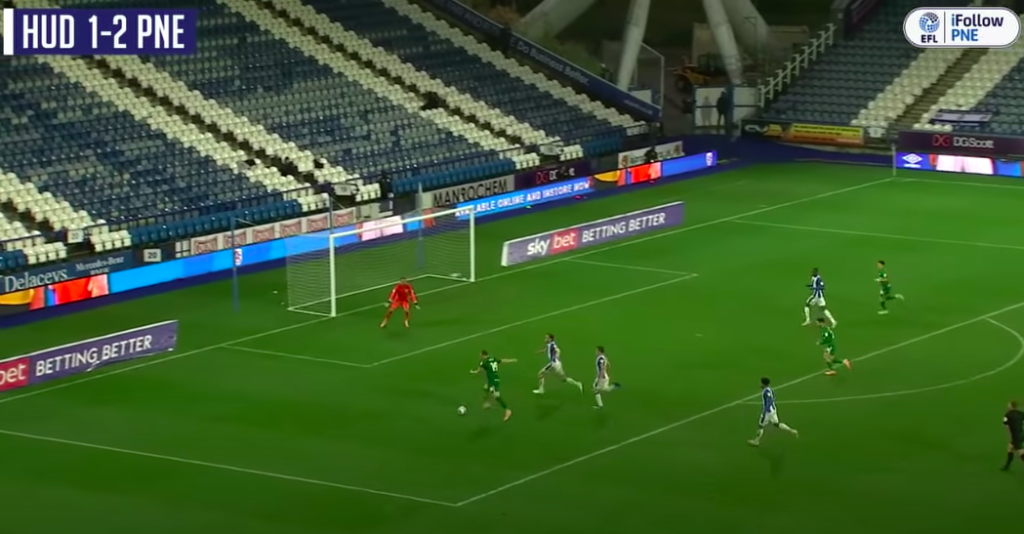 We understand anybody still being cautious over Riis; it's still early days, he's only had two Championship starts and Championship defenders will grow more accustomed to his style of play over time.
So far though, he's everything that Preston have needed. He's quick, he's a willing runner, he's strong enough to hold defenders off, he gets Preston moving forward with sharp turns, and can drop deep to open up defences.
Riis brings a totally different dimension to Maguire or Stockley, and whilst he will ultimately need to score goals too, Riis's all-round game has been exceptional so far – and whoever at Preston found him deserves huge, huge praise.
All shots sourced from Preston North End's iFollow
Related Topics