This evening, England travel to take on Andorra in a World Cup qualifier – a game that means more to Preston North End fans than many.
There is nothing inherently spectacular about England against Andorra. Sure, it's a minnow against a heavyweight, a David v Goliath style-situation.
Many fans who cheered England on during Euro 2020 may not even watch tonight's game. England are expected to win comfortably and have no trouble in doing so.
Yet when PNE fans see Andorra hosting England, their minds are cast all the way back to 2007.
In March 2007, England beat Andorra 3-0 away from home. Steven Gerrard bagged a brace before PNE's David Nugent made history with a somewhat comical goal.
Jermain Defoe's strike was absolutely trickling into the net, but Nugent ran in and hammered the ball home from all of about four centimetres.
Nugent simply shrugged; he likely knew that was going to be his only England cap. If a chance to score for England presents itself, you just have to take it – especially as a Championship player.
Nugent was playing in the Championship at the time. A striker crisis meant Nugent, who had been featuring in the England Under-21's, was brought into Steve McClaren's squad.
It's rare you see Championship players in the England squad, but Nugent managed it. HIs goal made history; by scoring in just 11 minutes as an England player, his Three Lions career is the shortest ever of any England goalscorer.
For PNE though, Nugent's cap and goal meant so much more. Nugent became the first PNE player to play for England since Tom Finney almost 50 years earlier.
Seeing a North End player in an England shirt is something few have witnessed. Only 14 players have ever represented England whilst playing for PNE.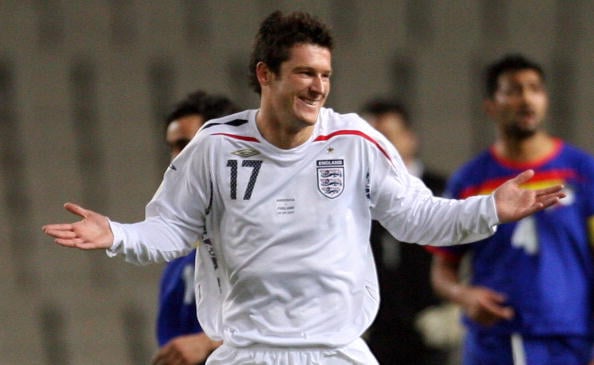 In the post-Second World War era, Nugent became just the fourth PNE to don the England shirt.
That game in 2007 won't be remembered by many, but it means plenty to PNE fans. Even when Nugent rejoined the club in 2019, the old chant about him scoring against Andorra was brought back some 12 years later.
England's trip to Andorra tonight with spark memories of that goal and that night, as well as Nugent's finest moments at the club after a somewhat acrimonious exit in his second spell.
Nothing can take Nugent's goal way from PNE, and who knows when we will see something similar again. We may well be waiting until the 2050's, after all.
Related Topics
Have something to tell us about this article?
Let us know