Emil Riis made his 100th appearance for Preston North End on Saturday in their game against Sheffield United. After two very contrasting seasons at the club so far, his third one could have a big impact on the next few years of his career.
The striker joined Preston from Randers in October 2020. It represented a rare foray abroad for the club, with Keammar Daley the last player to sign from outside the UK and Ireland before that, and that was back in 2011. Arriving initially known by his full name Emil Riis Jakobsen, the Dane was an unknown quantity to many, despite having been at Derby County earlier in his career. He didn't make an appearance for The Rams but did manage 75 games and 18 goals for Randers in his homeland.
His first season at Deepdale was played fully behind closed doors, and also saw Frankie McAvoy take over from Alex Neil towards the end of the campaign. Riis scored his first goal for the club a month after joining in an away win over Reading, but struggled for consistency. The striker showed a lot of promise and Scott Sinclair benefited from playing alongside him in a front two with Riis proving the perfect partner with his lay-offs.
However that first season with The Lilywhites only brought Riis three goals in 39 appearances. The second season was the polar opposite. He scored eight minutes into the 21/22 season, with fans finally back in stadiums. After three rounds of the Carabao Cup he was top scorer in the competition with four goals. He consistently scored goals throughout the season, even though under Ryan Lowe he found himself on the bench for quite a few games, with Cameron Archer and Ched Evans usually preferred.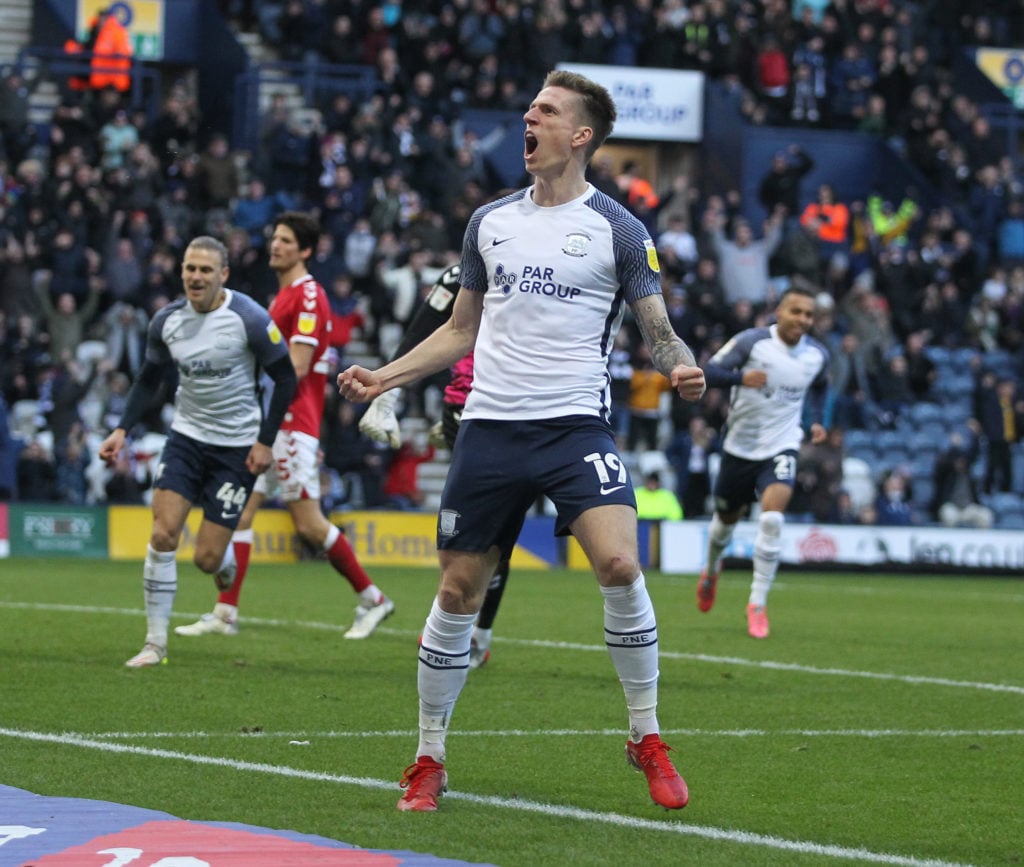 Riis scored some spectacular goals last season. One from an incredibly tight angle against Luton Town stands out, and also a last minute volleyed equaliser against Bristol City. He also scored late equalisers against Sheffield United both home and away, and picked up braces in the aforementioned Luton and Bristol City games, and in the last game of the season against Middlesbrough which saw him hit the 20 goal landmark. The first player to do it at this level for us since Richard Cresswell in 2004/05.
Understandably there was rumours linking Riis with a move away from Deepdale during the transfer window. Middlesbrough were interested, and were thought to have made a £7.5 million bid for him. However, Preston were supposedly only willing to do business if a £10 million offer was put on the table.
Riis ended up staying at the club but not before Ryan Lowe had claimed his head was turned and the striker also came out and said at the start of this season he wasn't playing, so it was only natural he would look at another club that were interested.
Speaking to the Lancashire Evening Post last week, he said "I just want to play football and I wasn't playing here, there was a big offer for me, so why not? But it's good to still be here. If I don't play football here then I want to go, I scored a lot of goals here last season and I want to play football and score goals."
He has only scored one goal this season, but the whole team have only managed three in the league. His partnership with Troy Parrott hasn't quite clicked yet. We need him to deliver because goals don't look like they are going to come from anywhere else. If he can get close to his tally last season, he will have plenty more suitors next summer. But if he is closer to his first season tally with us, than last season could be dubbed a one hit wonder. Over to you Riis.
Have something to tell us about this article?
Let us know