Preston let Chris Maxwell leave the club today, joining Charlton Athletic on loan for the rest of the season.
I wrote mere hours ago that surely, surely this means Preston have another signing lined up between the sticks.
There is no way on earth Preston will settle for Declan Rudd as first choice with Michael Crowe backing him up.
That has left fans wondering just who could be heading to Deepdale as signing number four of the January transfer window.
One name recently linked is Middlesbrough's Connor Ripley, who is currently impressing out on loan at Accrington Stanley.
There have been murmurings on social media and forums today suggesting that the 25-year-old will arrive imminently.
MORE PRESTON STORIES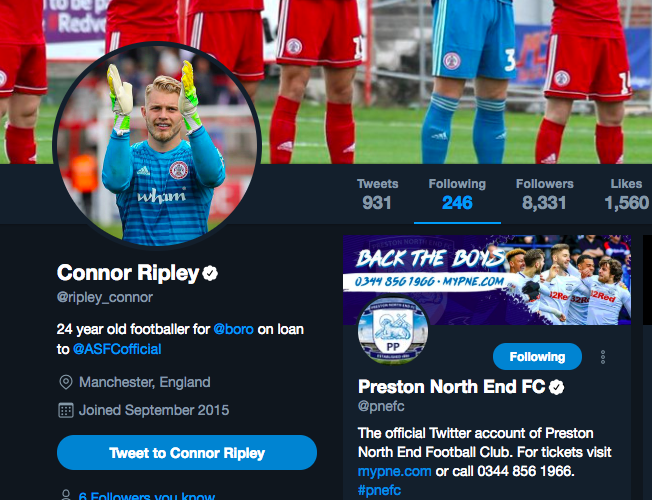 Now, the goalkeeper may have just given away that he's Preston bound, as the image above shows some interesting activity.
Ripley's latest follow on Twitter is, as pictured, North End's official Twitter account.
Maybe he's interested in our results. Maybe…no, I don't have any other explanation for this one.
On the day that rumours of a deal for Ripley ramp up, he just happens to follow the club on Twitter?
That seems too coincidental to be anything other than him following his new club as he gears up for the move to be announced.
Either that or he's very aware of the rumours and wants to troll us all on this Tuesday evening.